Event Location
Date:
29th June 2019
Location:
UTS, Lecture Theatre 702-730 Harris St ULTIMO NSW Australia 5000
Event Details

Join us for an exciting and educational opportunity to spend the day with Denis Stewart – the "godfather of Australian herbal medicine" in perhaps his last tour, and Dan Jones - the co author of Alfred Jacka's Prescribing Strategies book. Combining 70 years of herbal and mineral therapy expertise, the workshop will include treatment strategies, 'clinical pearls' and encourage case study discussion.
This workshop will also enable you to confidently prescribe mineral therapy as a standalone therapy and/or to be used adjunctively with herbs to support a range of conditions.
Dan and Denis will share many great anecdotes and case studies to support your confidence in mineral and herbal therapy and will provide you with valuable tips and prescribing techniques.
The cost of the ticket entitles delegates to:
Access to two masters in complementary medicine for an entire day
A delicious health meal, drinks and snacks throughout the workshop
One showbag including sample product and valuable Celloids prescribing information
Exclusive delegate specials on BioCeuticals Herbal Extracts and Blackmores Professional Celloids
Testimonial
Gerald Quigley, Community Pharmacist, Herbalist, Media Health Commentator and Author.
"Here's an opportunity to engage with the Masters of Masters, Denis Stewart as he shares with us his extensive herbal knowledge, his legendary results with his patients and his ability to cut through the incidental stuff and get to the real issues, as to how herbal medicine can make a difference. His skills changed my patient care, and it will empower yours". Add to that the practitioner skills of Dan Jones who will pass on the amazing benefits of Celloids - Dan is the modern day Alf Jacka, who long with Maurice Blackmore, developed our knowledge of Celloid Therapy."
Program
9:00am - 10:00am Introduction
10:00am - 10:15am Stand up & stretch
10:15am - 11:15am Topic 1, Female Reproductive
11:15am - 11:30am Morning Tea
11:30am - 12:45pm Topic 2, Urinary
12:45pm - 13:30pm Lunch
13:30pm - 14:45pm Topic 3, Respiratory
14:45pm - 15:00pm Afternoon Tea
15:00pm - 16:15pm Topic 4, Skin
16:15pm - 17:00pm Q&A
Learning objectives:

• Gain confidence in dispensing a range of modalities that complement each other and how these can be used to develop a personalised prescribing style for better clinical outcomes
• Acquire the ability to manage challenging conditions, including:
o Female Reproductive
o Urinary
o Respiratory
o Skin
• Discover the role of mineral therapy when used as an adjunct to herbs to improve patient outcomes
• Identify the key characteristics of personalised prescribing
• Gain confidence in interpreting presenting body signs and symptoms
• Learn about the different dosing strategies for patients with acute and chronic conditions
Venue Information
MAPS:
The event will be held in Building 6, located at 702 – 730 Harris St, Broadway. The theatre is located on Level 3, within room 022, Room Number: CB06.03.022. The easiest way to get to the room is to access the building via Harris St, you will notice a yellow UTS sign on the St which indicates the building. Take the set of stairs into the building and your theatre is directly in front of you just behind the lifts.
Please see below a link to the interactive maps of the UTS Campus.
http://maps.uts.edu.au/map.cfm
Please find below a link for your mobile phone which helps you find your way if you are lost. http://wayfinding.uts.edu.au/
CAR PARKING
Please click here to a list of car parks close to the UTS campus.
Our Speakers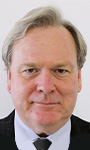 Mr Daniel Jones AdvDipNat DipBotMed
Daniel is a dynamic and entertaining presenter with 30 years naturopathic experience and has lectured and supervised clinic hours at a leading naturopathic college. Daniel co-authored the respected textbook, Alfred Jacka's Prescribing Strategies and presented on the Celloids® In Practice DVD Vol. 1 and developed the popular Celloids® Mineral Therapy Body Signs Chart. Daniel is a strong advocate of using mineral therapy as a result of tremendous clinical success and shares many great anecdotes and case studies to encourage confidence in mineral therapy.
Mr Denis Stewart
From sowing the seed, to dispensing the medicine, Denis Stewart has played a vital role in the development and practice of herbal medicine during the past 40 years.  His vast knowledge of herbs has seen him in demand as a consultant to growers, manufacturers, practitioners and lecturers.  Denis was one of the pioneers in the introduction of echinacea, chaste tree and of Astragalus 8 to Australia.  He has been referred to as the "godfather of Australian herbal medicine", a "giant of a herbalist" (New Green Pharmacy) and as spearheading the "Herbal Renaissance" in Australia from the early 1970s.
He has been a Director of Studies and Senior Lecturer for Southern Cross Herbal School since its inception and was Conjoint Associate Professor at the University of Newcastle between 2000 and 2007, participating in the establishment of the Bachelor of Herbal Therapies degree at the University. Denis continues to practise herbal medicine in Newcastle.

Ref: #1623657762-3