Ultra Potent-C®
Effervescent, High Dose Vitamin C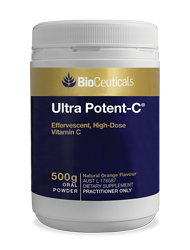 Having trouble finding a supplement to support the whole family's immunity? Try our effervescent high-dose vitamin C and nutrients powder, with a tasty orange flavour.
Ultra Potent-C combines a high dose of various forms of vitamin C, together with zinc, vitamin E, betacarotene and rutin in an easy-to-mix-and-drink oral powder for immune system and antioxidant support.

Serving Type:
Oral Powder
Available in Sizes:
200g oral powder 500g oral powder
Dosage:
Adults: Mix one 4g dose (1 level metric teaspoon) into 250mL of water or juice. Consume one to three times daily or as directed by your healthcare practitioner.