Pharma Mag Forte
Cellular Energy Production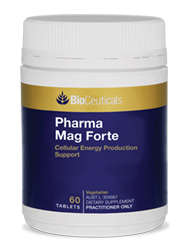 Provides nutritional support for muscle function and nervous system function.
Pharma Mag Forte contains a combination of magnesium chelates to provide nutritional support for muscle function, as well as maintaining healthy muscle contraction and relaxation. Magnesium maintains cardiovascular system health and supports blood vessel health and dilation. Magnesium also supports nervous system function including nerve conduction and healthy neuromuscular system function.
Serving Type:
Tablet
Available in Sizes:
60 tablets
Dosage:
Adults: Take 2 tablets two times a day, or as professionally prescribed.
Where to buy