Lipoec 400
Antioxidant Support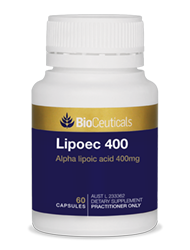 With 400 mg of antioxidant alpha lipoic acid to aid glucose metabolism.
Lipoec 400 provides 400 mg of alpha lipoic acid. Soluble in fat and water, alpha lipoic acid provides extensive antioxidant activity throughout the body, reducing free radicals formed in the body. It also provides nutritional support for glucose metabolism.
Serving Type:
Capsule
Available in Sizes:
60 capsules
Dosage:
Adults: Take 1 capsule one to three times a day, or as professionally prescribed.
Where to buy